A Special Dance for the 209 Viewers on June 19.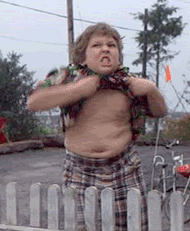 This is a "I passed 200 visitors yesterday for the first time" dance.
I'm having a great time blogging, and I appreciate all of you who have dropped by to read and comment. I've met some really nice, weird, passionate people.
Thanks to Chris for your encouragement and help.
I've encouraged others to blog. So far, only one has taken me up on it, and we're married.
But I think I have at least one more blogger in the making. If you're having as much fun as I am, spread the word.
Here my other family blogs:
Bickering Boomers – My wife and I let you in on the little things that pop up.
Keeping You in Stitches – My wife's "knitting" blog. (They have entirely too much fun at her knitting get togethers.)
Dogs With Cones – My son-in-law's idea "because everybody takes pictures of their dogs in cones."
I can't wait for my blogger cards…
UPDATE: Here's a boomer that will help you get started free.
UPDATE 2: Just to keep me humble, dogswithcones.com one day all time high is 629. Arf!